Archive for Februar, 2009
Februar 18th, 2009 | stazol
Berlin, Hotel Adlon

Da steht man und ist wie verabredet und freut sich die Freunde zu sehen. Es ist kalt über der Spree, doch da wuchtet es sich immernoch empor, das Bauwerk, das schon vor zwanzig Jahren dem Knaben sehr viel Eindruck machte und wo er den Dornauszieher erstmals sah. Doch rasch jetzt, hinein! An den spanischen Schlangen vorbei – man bemerkt, dass die Haartönungen der holden Madrilenen doch einiges zu wünschen übrig lassen. Und dann, man ahnt ihn durch die Mitteltür, doch erspäht nichts, das Artefakt ist schlicht zu gross. Stille. Man hört die Andacht. Man begegnet sich von links, seltsam übereinstimmend mit der Tatsache, dass die Bewohner Pergamons aller Wahrscheinlickeit nach genau dort den Hügel erklommen, um den Göttern zu huldigen. In strahlendem, marmornen Weiss, nun, man kann sagen, schwebt er. Die Friese der Helden heben ihn auf ihre Schultern im Kampfe, die Titanen sinds gegen die Götter, und man ahnt an den umlaufenden Wänden, an den dort hängenden Statuenhaft herausgemeisselten Szenen, wie gross der Altar tatsächlich gewesen sein muss, den recht eigentlich steht hier nur die Vorderfront, aber die ist schon gewaltig. Gewaltig im Schweben, denn es ranken sich Säulen empor, genaugenommen ranken sie nicht, sondern sind von elegantester Schlankheit, angeordnet rund um den eigentlichen Altarraum – wobei bemerkt werden muss, dass der Pergamonaltar die Form der alten attischen Altäre hat, nur eben in unendlicher Dimension. Was da Raum wird und Wirkung entfaltet, ist schlicht eine gewisse Heiligkeit, man darf, man muss es sagen. Meine beiden Begleiter schweigen andächtig, beide sind Künstler, beide schier erschlagen von dieser ästhetischen Wucht. Man setzt sich auf die hohen Stufen vor´s Bauwerk, den Stufen, die so steil hinaufführen, dass man am Treppenabsatz eindringlich davor warnt, der Austieg sei auf eigene Gefahr. Man stellt mit einigem Erstaunen fest, dass der gesamte Museumsbau schlicht um den Altar errichtet wurde, das gleiche nach vorn ausgerichtete Hufeisen ist da kopiert, und man begreift, das dieser graue Steinschrein nur über das Heiligtum gestülpt ist, und man wird gewahr, dass hier eine gigantische Schmuckschatulle für ein Kleinod erbaut wurde, vielleicht von Titanen. Man stelle sich die preussischen Nickelbrillen vor, die den Altar vor einem Jahrhundert fanden, akkurat ausgruben um ihn dann – zu stehlen. Offenbar ohne schlechtes Gewissen. Man erinnert sich an die Elgin Marbles des British Museum, die Figuren des Pantheons, ein uralter Historikerstreit. Hätte man sie nicht entführt, sie wären verloren gewesen. Bei einer Schlacht um Athen explodierte das Pulverlager der Türken im Erechteion. Bis dahin hatte die Tempelanlage weithin unbeschadet Wirren, Kriege und Jahrhunderte überdauert. Es ist an der Zeit nun, den Wikipediaeintrag zu zitieren:
"Der Pergamonaltar ist ein monumentaler Altar, dessen Bau unter König Eumenes II. in der ersten Hälfte des 2. Jahrhunderts v. Chr. auf dem Burgberg der kleinasiatischen Stadt Pergamon errichtet wurde.
Der Altar war 35,64 Meter breit und 33,40 Meter tief, allein die Freitreppe hatte eine Breite von fast 20 Metern. Den Sockel schmückte ein Hochrelief, das den Kampf der Giganten gegen die griechischen Götter darstellte. Ein zweiter Fries an den Hofwänden des Pergamon-Altars erzählt in einem Zyklus aufeinanderfolgender Reliefbilder die Legende von Telephos. Telephos, ein Sohn des Helden Herakles und der tegeatischen Königstochter Auge, galt als mythischer Gründer jener Stadt.
1878 begann der deutsche Ingenieur Carl Humann auf dem Burgberg von Pergamon mit offiziellen Ausgrabungen, die 1886 ihren vorläufigen Abschluss fanden. Das Hauptziel der Ausgrabungen war es, die Altarfriese wiederzugewinnen und das Fundament des Altars freizulegen. Später wurden weitere Baukomplexe der pergamenischen Akropolis freigelegt. In Verhandlungen mit der beteiligten türkischen Regierung konnte vereinbart werden, dass alle damals gefundenen Fragmente der Altarfriese den Berliner Museen zugesprochen wurden.
In Berlin setzten italienische Restauratoren die Platten der Friese aus tausenden Fragmenten wieder zusammen. Um die Friese zusammenhängend ausstellen zu können, wurde auf der Museumsinsel eigens ein Museum errichtet. Der erste Bau von 1901 wurde 1909 zugunsten eines größeren Neubaus abgerissen, der 1930 vollendet wurde. Nach den dort ausgestellten Friesen und einer Rekonstruktion der Westfront des Pergamonaltars hat auch dieser Museumsneubau von den Berlinern den Namen Pergamonmuseum erhalten. Der Pergamonaltar ist heute das bekannteste Ausstellungsstück der Antikensammlung auf der Museumsinsel."
Und dann, ganz weit versteckt, hinter den Säalen und auch vor den Spaniern sicher, man muss unendliche Flure passieren (Speer tat ähnliches mit der Vorhalle in der Reichskanzlei), sitzt er dann, der entschwunden Geglaubte, als warte er in völliger Ruhe auf dich, der treuste Freund in zwanzig Jahren, seit zwei Dekaden, sitzt also und zieht sich in ewiger Bewegung festgehalten in einem Augenblick, den Dorn aus der Fuss-sohle. Und man entschwindet.
Februar 18th, 2009 | stazol
Berlin, Hotel Adlon

…dommage. In Berlin heisst es, die Redakteure durften heute alle nach Hause gehen. Gestern sollen noch Einstellungsgespräche geführt worden sein.
Februar 8th, 2009 | stazol
"Rabbits? Why rabbits?" I ask the young painter Tina Oelker, when I visit her in her Loft-cum-Atleier in Hamburg near the fair ground. "The structure and characteristics of the animals interest me" she says: "They are wild and free, fast and fascinating. One cannot catch them so easily and they can´t be domesticated. I take them into the city, for the city dwellers. My collectors hunt them down, so to speak. They are so out of touch with the wildlife, that some of them want to have them in their homes."
The atelier´s walls are covered with rabbits in every shape and colour, and Tina Oelker variates them with the ease of a coloratura soprano would do with her arias. She wants to paint exactly 1000 of them and has 195 so far. It´s an ongoing project and one of them is in the stage of being created on her easel in her rooms. She opens the door in her painter´s outfit, sprinkled with paint and instantly offers a wonderful strong espresso. Her last exhibit was in a fashionable Italian restaurant, where her boyfriend Manuel Alec Klein, a promising actor who currently is on stage in Münster and Bonn, sang some chansons for the evening.
The german painter, Tina Oelker was born on the 7th of Dec. in 1973 in Westfalia and is now living and working Hamburg. At the age of 15-19 she studied Modern Art in her home town Hamm. During her studies she met the Italian (Avandgarde) Artist, Federico Schiaffino, who inspired her work, invited her to Portofino and exhibited her work. After her graduation in 1994 Tina Oelker moved to New York, to study Fine Art at the Art Students League and childrenbook illustration at S.V.A. Back in Germany she directly started to exhibit and held several live-painting performances. From 1997-2004 she studied Design at the University HHW in Hamburg. During that time she became one of the most present artists and curators in Hamburg. In 2004 she finished her project, "Durchgang" (producer gallery) and concentrated intensively on her paintings. Tina is currently presenting herself with her project, "1ooo Hares – limited edition" and her hunting motives. "Her large oil paintings (200 x 200 cm) show pestering restlessness and vehemence, emotions spread out directly and naked. She intends to provoke the viewers emotions, not to say she attacks them. Tina Oelker doesn´t go easy on emotions and even less her own (…), the cultural journalist Beate Naß, said 2007 in her exhibition speech: "Her work is full of vitality, a process of passionate painting between laughs and tears.
Since spring 2008 she lives and works together with her singer/actor boyfriend with whom she also produced and shot her short movies, "Zu Tisch"/ "being at table" where she catches on with her last hunting motives. It gives a clue of Tina Oelker´s direct, powerful and humorous association with her perception of the hunt, wild deer, human beings, sex, birth, death, and life itself. "Life is continuity" instead of "life is suffering" is her motto for her current work. She perceives herself as persistent and honest in her work and at the same time hopes to remain absolutely open minded for the ongoing change of existence itself. Her current presence in New York City can be seen as a little hunt for fame and recognition. "Tally ho!" one might add.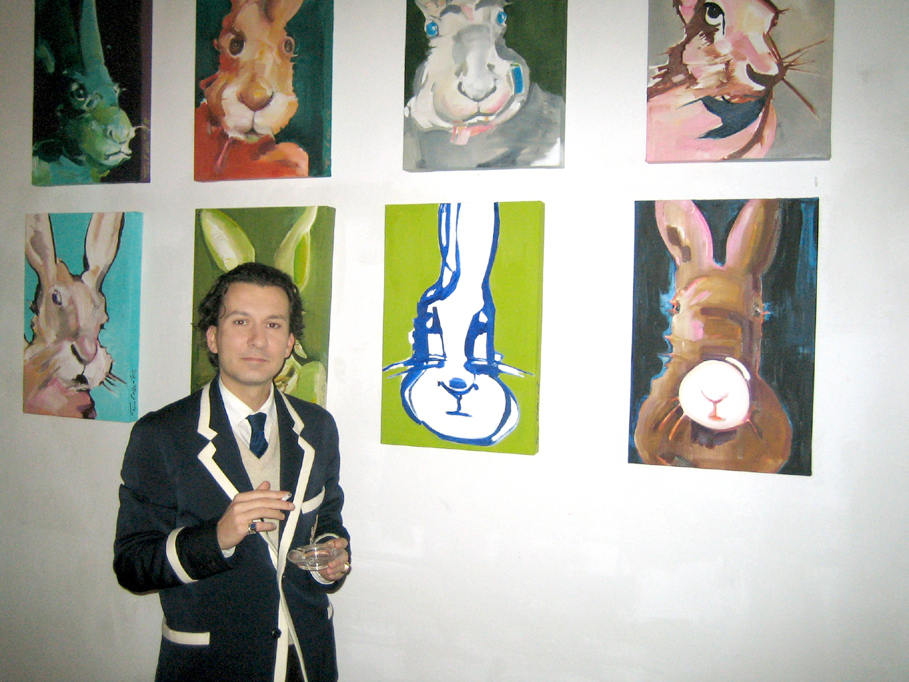 www.tinaoelker.com