Archive for Januar, 2009
Januar 25th, 2009 | stazol
Paris, Hôtel Meurice, from our fashion correspondent Harald Nicolas Stazol
AT LAST! there is a colour, bright and gaudy and signaling, like a bright light in the dark stormy sea of Wall Street, Nikkei and the City! and whom to thank for? who is the wizard, the messiah of men´s fashion (ok, perhaps that takes it a bit too far…there was this purple turtleneck at Ungaro after all, and the neon round the shoes and calves at Petar Petrov , but totally unwearable, i fear..), the irresistible signal giver? A WOMAN!
Enter Véronique Nichanian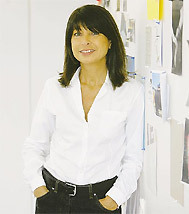 of Hèrmes (wild applause!!!) .
What vision, what unheeding of the current crisis, what force of combination! une tour-de-force, and un coup-de-grâce to all-consuming depression – in one single blow! and in acid yellow! who else would put on show a crocodile coat? (and who will afford it? but that doesn´t matter) What did Frederick the Great do in the most severe prussian depression after the Seven-year-war? He built himself a palace, the Neue Palais in Potsdam, from 1763 bto 1769…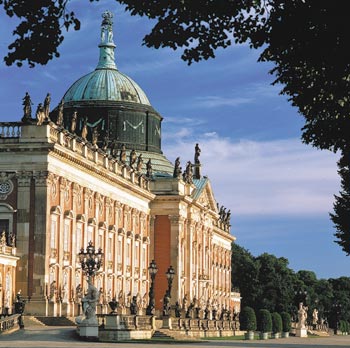 …and thereby created thousands of jobs for carpenters, builders, gardeners, outfitters, servants, weavers and the like. it is said that he spent only seven days in total at his 200 room dream-come-true. That´s the spirit! Obama, take heed!
But see for yourselves: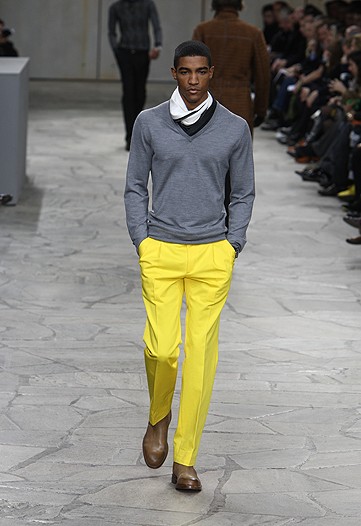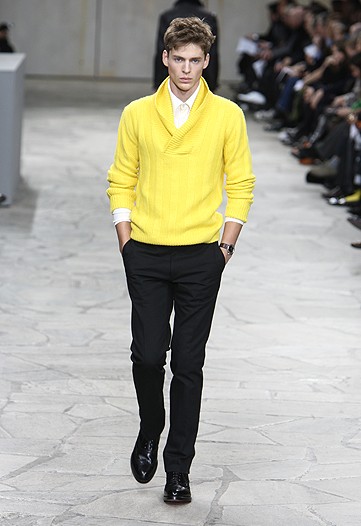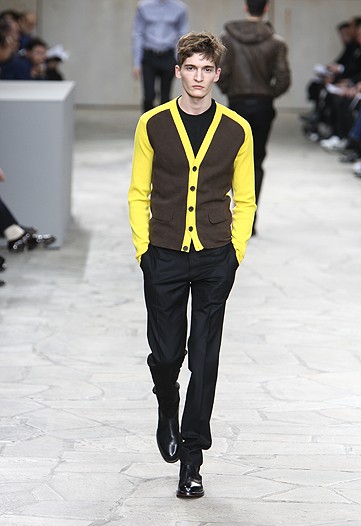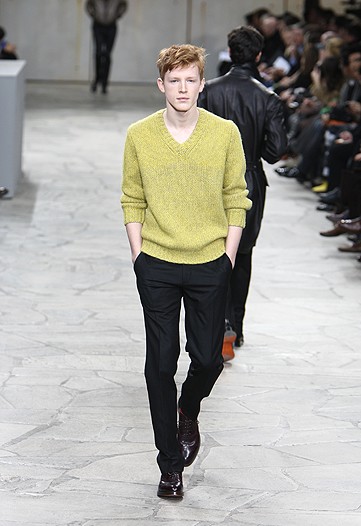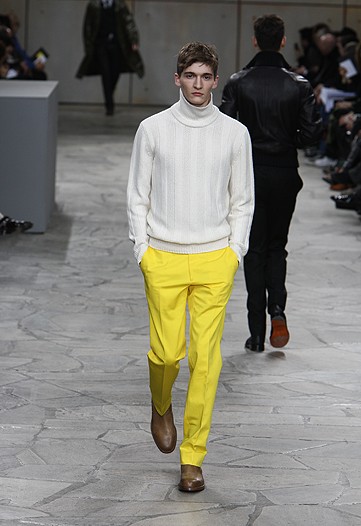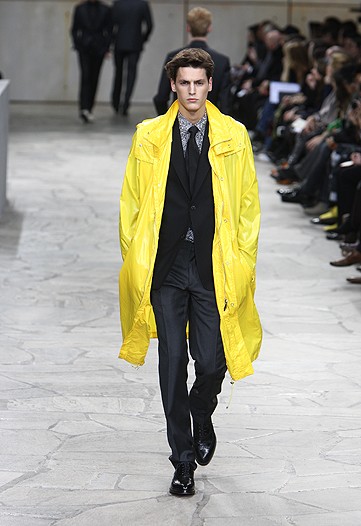 Kazuyuki Kumagai is a name one should be on the lookout-for by all means for blending exquisite taste and tailoring with the undying implications of the modern urban punk. Though one problem remains unsolved, the eternal paradox in menswear: Who of the ephebes who can carry these outfits with sensual aplomb and give cutting edge to the scene can actually afford them? And they look a bit grumpy, which i like, like student-protesters who are fed up with the current status quo and don´t give heed to any conventions. At least the trend is to be followed by easy copying and bringing it into streetstyle with some care.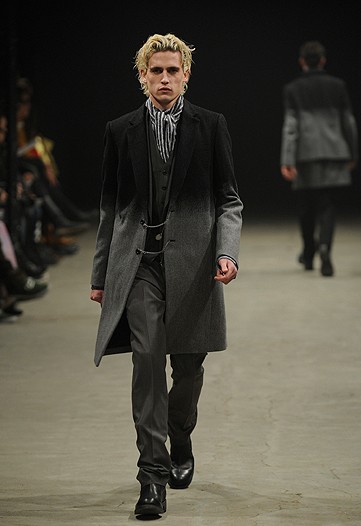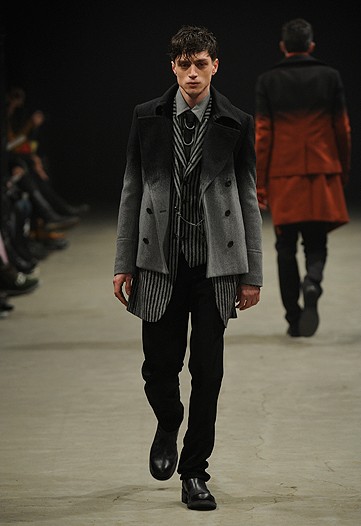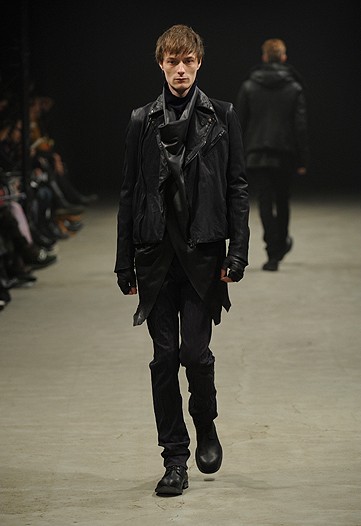 let´s see what the last throes of paris will have to offer as the last day passes, the suspense quite frankly is only bearable with some champagne – whose consumption, I gather from the gasps of the sizzling wine cellars and sommeliers, has gone down about 15 percent worldwide so far (well, a cremant should do then, we all have to economize after all).
Well, but though surely not at Dior. Diana Vreeland once said "you can´t either be too slim or too rich" – well, and if this doesn´t fit perfectly to the Dior homme man – or boy – les mots me manquent. There is this minuscule quota of refinement and air that is present in all the presented pieces, marking Dior as the most prestigious luxury label after all, and, well, Dior is Dior. Whether it was necessary to preheat the audience with radiators from above is questionnable, though perhaps a nice touch against the sleek coolness that was pervading the air right from the beginning of the toned down and fine cut presentation. The techno music was surely debatable. It´s this extra little edge that Kris Van Assche put into the collection with his asymmetrical, geometric cuts and a touch of upper-class-punk, of course taking refuge into black and white, and black and white it is. Those gloves with the white-stiched, highlighted indexfinger-pieces might well be the most stunning accessoire seen this whole season. But again, those, who look best in the clothes, will have to steal them. The gap between wearability and presentation is a Grand Canyon –  but can well be overlooked from the aesthete´s point of view.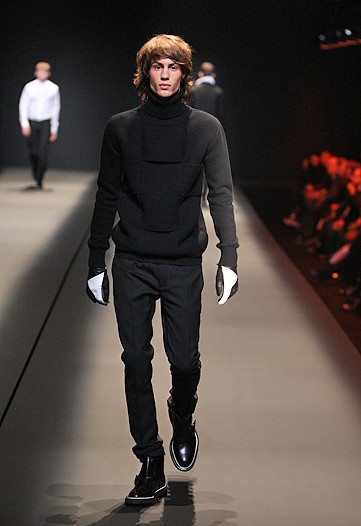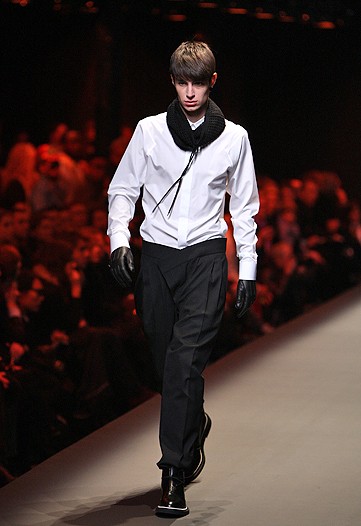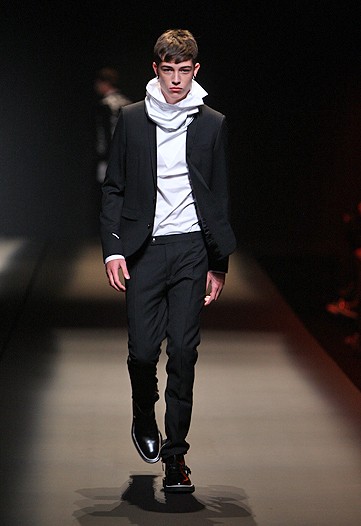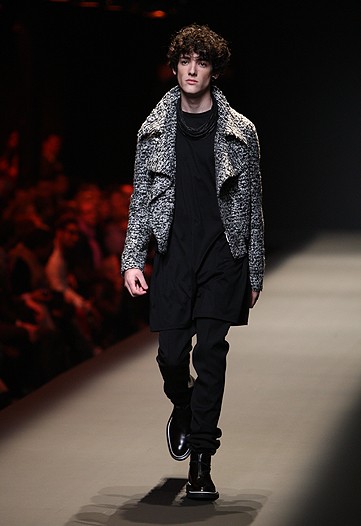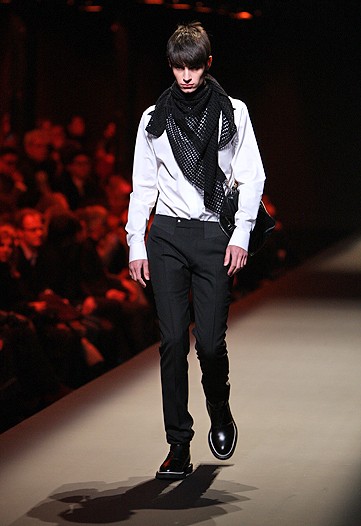 If there would be something as Haute Couture pour Homme, Dior would be the perfect thing – sans doute.
But then, of course, there is Lanvin. "We wanted to deliver an optimistic message", says Lucas Ossendrijver, Lanvin's men's wear designer, thereby stating his own sense of that new word of prey, so prone to every usage of every sociopolitical tongue untied: Change. "Give people something real and find the real solutions to their clothes, change things and propose newness." And Lanvin´s creative director Alber Elbaz comments: "In difficult times the public needs something uplifting. You can either take a Tylenol or wear a Lanvin suit." And what suits they are! Flowing, voluptous, light and with a certain schoolboy-attitude, complete with little, jaunty caps and those enchanting silk scarves, smooth and thin like a lovers kiss. Real clothes for real people, one might think. And suddenly, on the spur of a moment, in the Midst of Paris, here in courtyard of the Lycée Carnot, I think: There it is, the most touching of emotions, so unique and rare in le monde de la mode – a true, pure moment of Avantgarde.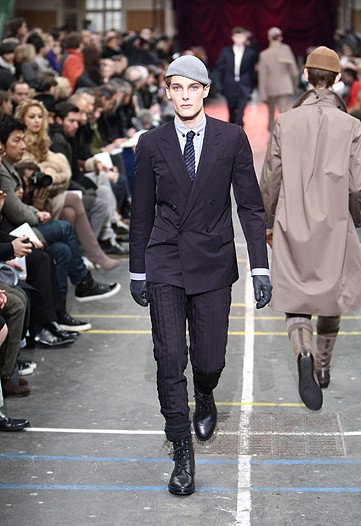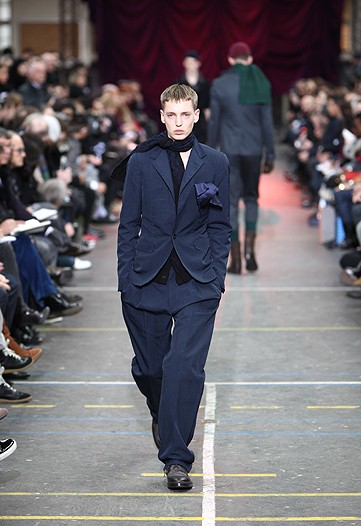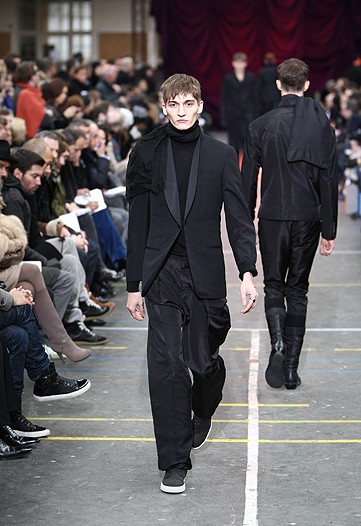 With this, I leave Paris – and you to perhaps more important issues than men´s fashion – if they exist at all nowadays. If reality is too bleak, men of taste flee into a dreamland: "If you see a fair form chase it, and if possible embrace it", the great W.H.Auden once wrote.  And who am I to disagree… til New York in february, that is.
all pictures wwd.com
Januar 24th, 2009 | stazol
Paris, Hôtel Meurice, from our fashion correspondent Harald Nicolas Stazol
Leggins under shorts, capes over draped broad sholders, german militaristic music – has Givenchy gone mad? All in black of course, and note those boots-stockings-near-pantys in blue sequins, and buy them and wonder, why your girlfriend thinks you are suddenly gay and your boss at work
has such a fit of laughter that he falls from his chair.
There exist some patchworks that can be so wellcut that  they are intellectual and dialectical like Comme des Garcons´s suits-comme-vests, or how to put it faute-de-mieux. but somehow it looks cheap. i don´t know what to make of it. AND NOTE THE HAT!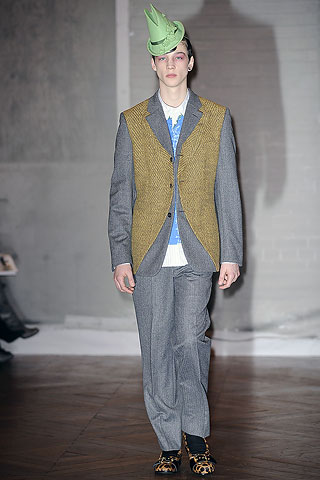 And then Raf Simons. When I met him in Luzern after he had received a price and i already owned two jackets and one suit by him, I really was taken by his genial, quiet and restrained character during the dinner in Luzern´s casino. He declined to join me at roulette and was sensible enough to keep his snippets of speech short and impressing. He had just been rescued by the swiss price-money from financial ruin. And I got an incling of his creative force. Little did I know that he would present the best show so far in Paris this season. Now this…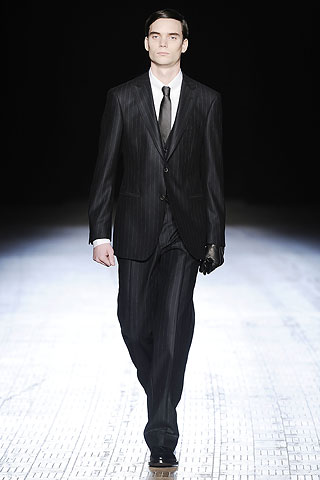 is a suit. It seems so easy to do but in men´s fashion is the most difficult to achieve. "Viele fühlen sich berufen, doch wenige sind auserwählt" (Matthäus 20, 16) as we say in german (you don´t have to know what this means, just learn it by heart and mumble periodically, preferably in first row at Calvin Klein, you´ll be surprised, what effect this will have, even with a strong accent, but this is an aside: for many be called, but few chosen. …). These pencil trousers, so pleated as to cut a slice of a loaf of bread, so easy flowing that you don´t want to change out of it. Were I already master of my familiy´s fortune, this is were my money would go, buying the whole collection on the spot. Fuck the crisis!
As the venerable Suzy Menkes analyzes in today´s International Herald Tribune, there seems to be a shift from Capitalism to Communism in men´s fashion, a notion I can´t quite follow, but perhaps you can.
One name one should surely keep in mind for his sheer elegance is Mihara Yasuhiro (of the label – guess? – Miharayasuhiro), someone i clearly had not on my radar, quite unpardonnably and inexplicably, as he has had a long collaboration with Puma, it seems. Well, even the most fashion-savy is not always up-to-date, though few would admit it, and so at least I was in for a more-than-pleasant surprise, that perhaps most-precious of moments in our fleeting fashionista-existence. But have a peek for yourself: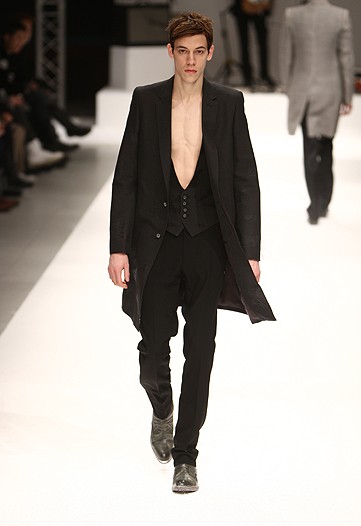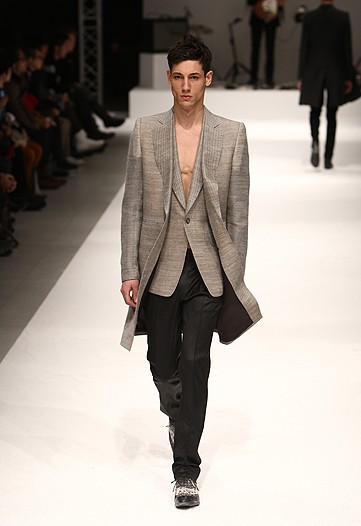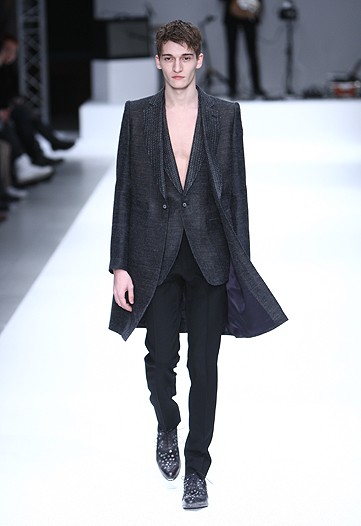 Now, that´s Men´s Fashion!!!
Well, and last not least, l´enfant terrible eternel, John Galliano: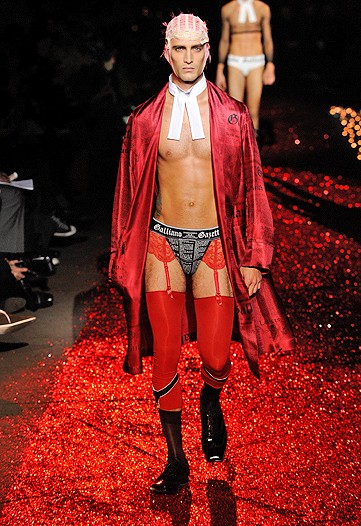 That can be men´s fashion, too.
tomorrows schedule, the last day of paris:
Sunday, January, the 25th
U-NI-TY, LANVIN, WOOYOUNGMI, MASATOMO, DIOR HOMME, PAUL SMITH, WALTER VAN BEIRENDONCK, AGNÈS B., JULIUS, ROMAIN KREMER, DUNHILL, GARETH PUGH
keep you posted, on to New York…
all pictures wwd.com
Januar 24th, 2009 | stazol
Paris, Hôtel de Crillon, from our fashion correspondent Harald Nicolas Stazol
21 club, the last New York restaurant, where wearing a tie was obligatory, has rescinded it´s rules – the anyway not too elegant male Manhattanites are free to roam there as they please now, it seems. O tempora, o mores!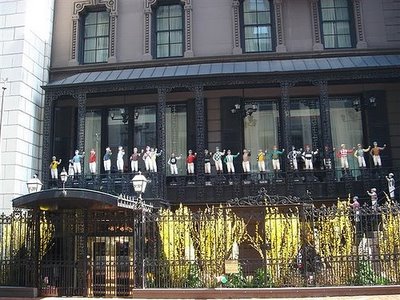 Well it is well noted by our correspondent of Old Europe that the rules still apply in the lobby of one of the Leading Hotels of the World and one of the best in my opinion anyway, the Brenner´s Park in Baden Baden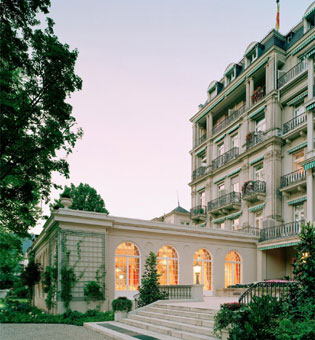 There even is a little pictogram for that matter next to the door on the right side, if memory doesn´t fail me, for the not language-savy… I´ll check that when I will be back for the races, beginning 29th of August 2009. Oh, and let´s not forget that at the Old Winter Palace in Luxor (Corniche el Nile street)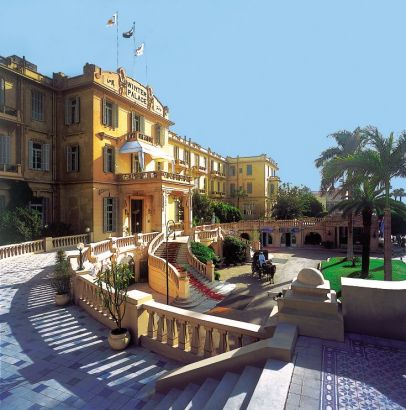 an archeologist friend of mine, when after some excavations at Amenophis´ III temple we had decided to frequent the superb french restaurant (right aisle form the lobby, second door to the left after the ballroom), was duly denied access for not wearing a cravate.
And where did the word come from, after all? The Croatians!
In the 17th century, during the Thirty Years' War (1618 – 1648) in which France and Sweden had united forces against the German Empire, Croatian soldiers served as mercenaries in the light cavalries of both armies. They first gained a reputation of being exceptionally courageous and well trained within the German ranks. After the victories they had won over the French troops, Cardinal Richelieu himself insisted on including Croatian mercenaries in the French army. In 1633 the first French troop made up of Croatian cavalry was formed. One of the 24 cavalry regiments formed in France in 1643, was the Croatian regiment "Royal Cravates". It was an elitist regiment which fought many battles for the kings Louis XIII and Louis XIV. Its soldiers differed from other French troops in their warring strategies, arms and uniforms. A particular detail of their uniform was a kerchief knotted round the neck. Not only did the French soldiers adopt the fashion of wearing the neck kerchief, but it soon grew very popular among the civilians too. Even the French ladies members of the French court and the French nobility, wore cravats, and in the years to come, they could be seen knotted round the necks of gentlemen in other European and overseas countries.
In the Book of François Chaille "La Grande Historie de la Cravate" (Flamarion, Paris, 1994) describes the Croatian origins of the cravat (tie):
"(…) in the Year 1635, about 6.000 Knights and Soldiers came to Paris as reinforcements for Louis XIII de Richelieu. Most of them were Croats who were lead by their Ban. The Croats soon had the attention of the Paris nobility because of the pieces of silk tied in a unusual way arround their necks. Quickly, the term "a la croate" found his way into the French as "cravate" (…)"
So without sounding too traditional – I´d suggest you keep your tie on at all times when in public. With the only exceptions of jogging, swimming and – dancing in the dark.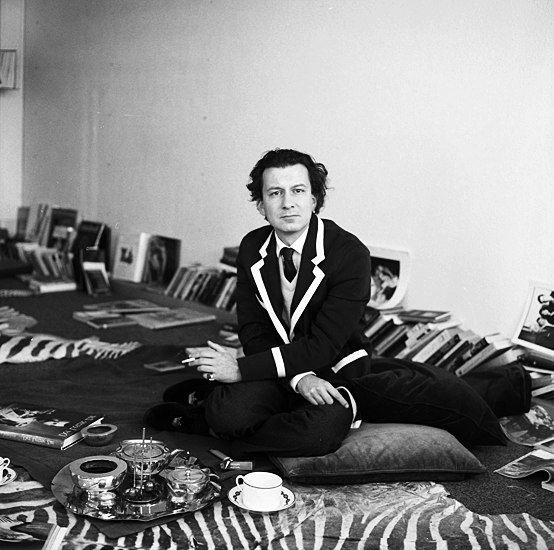 elenagetzieh.de
Januar 20th, 2009 | stazol
Milan, Grand Hotel Duomo, from our fashion correspondent Harald Nicolas Stazol
There is one big question in the financial crisis – yes, yes, haven´t we seen it all, the deserted boutiques on 5th Avenue, the lonesome shop-assisants on Via Gesù, the abandoned flagship-stores in the Faubourg – in the designers work: go for safety and do dark, black, grey well-tailored suits or, as the NYT put it: why buy something  – if at all – that you already have in abundance, lest something better should be under way? Or, as my esteemed colleague Godfrey Deeny from FWD put it at Armani: "Judging from Armani, this is going to be a long and deep recession; we had to wait some 50 looks before anyone appeared in working gear of a suit and tie. Nearly every model was attired for a gentlemanly dinner among friends or a brisk winter walk in the countryside."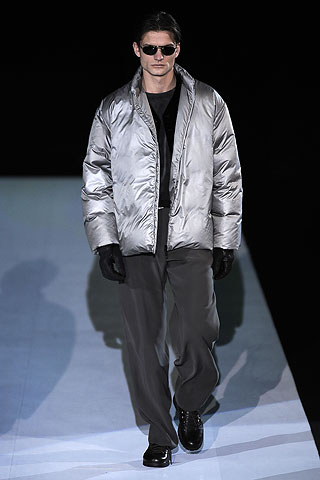 flashy colours, that multicoloured gucci jeans f.i. (though i bought mine in 2001, and it still is a orange-pink-flamed spectacular piece in summer)? Oh, that was spring, gaudy spring, when everything seemed in order and the money still in the vaults and had not gone up into thin air. but there remains this all-time-classic, the blue velvet suit  (again mine dates from 2003), ideal for formal occasions or that Dubstep-Party in London. At least a hue of the night, soft and alluring – though i beg to differ on the shirt and tie.

well, my advice: go to that impeccably tailored grey jil sander short coat in grey flanell, shaped like an hour glass, the best piece seen so far, if – and that´s a big if – if you have the body-mass-index for this. all´s well that ends well. i keep you posted….on to paris!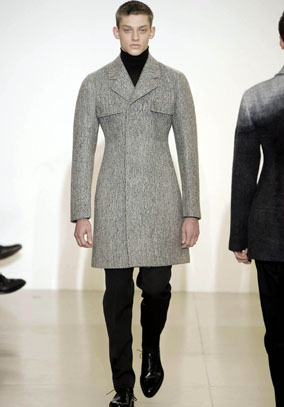 P.S.: what poor Oscar Wilde has done to deserve to end up as a print on a D&G T-shirt only the gods know!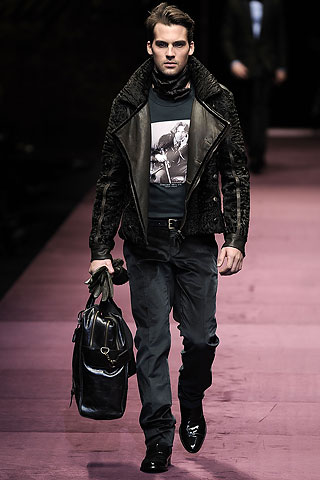 all pictures wwd.com